You should not miss that!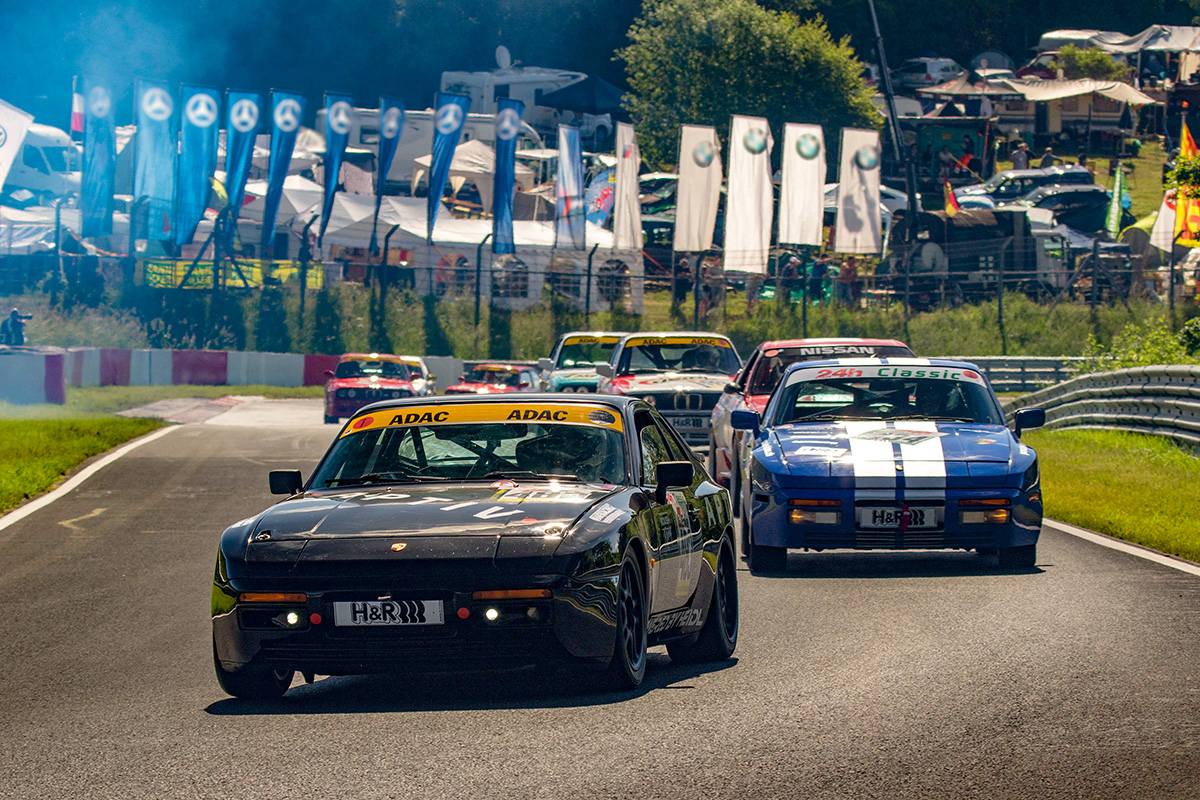 Friday, 09:20 Uhr
At the ADAC 24h Classics, the seventies and eighties of the Eifelmarathon come to life again.
Saturday, 10:00 Uhr
Pure action: The TCR World Championship starts in the Green Hell for the highlight of the season.
Saturday, 16:00 Uhr
The start of the ADAC TOTAL 24-hour race – now the hunt begins twice around the clock.
The 2022 schedule in detail
| | | | | |
| --- | --- | --- | --- | --- |
| 08:00 | 12:00 | RCN Rundstrecken Challenge | Leistungsprüfung | Nordschleife |
| 08:40 | 09:10 | Tourenwagen Legenden | Freies Training | Grand-Prix-Kurs |
| 09:50 | 10:10 | BMW M Race of Legends | Freies Training 1 | Grand-Prix-Kurs |
| 10:20 | 10:40 | BMW M Race of Legends | Freies Training 2 | Grand-Prix-Kurs |
| 11:10 | 11:30 | Tourenwagen Legenden | Qualifying | Grand-Prix-Kurs |
| 12:30 | 14:00 | 50. ADAC TotalEnergies 24h Nürburgring | Qualifying 1 | Gesamtstrecke |
| 14:30 | 15:10 | FIA WTCR | 1. Freies Training | Gesamtstrecke |
| 16:25 | 18:15 | ADAC 24h-Classic | Qualifying | Gesamtstrecke |
| 19:00 | 19:40 | FIA WTCR | 2. Freies Training | Gesamtstrecke |
| 20:30 | 23:30 | 50. ADAC TotalEnergies 24h Nürburgring | Qualifying 2 | Gesamtstrecke |
| | | | | |
| --- | --- | --- | --- | --- |
| 08:30 | 09:00 | ADAC 24h-Classic | Startaufstellung | Gesamtstrecke |
| 09:00 | 09:20 | ADAC 24h-Classic | Einführungsrunde | Gesamtstrecke |
| 09:20 | 12:20 | ADAC 24h-Classic | Rennen (180 Min.) | Gesamtstrecke |
| 13:00 | 13:40 | FIA WTCR | Qualifying | Gesamtstrecke |
| 14:10 | 15:10 | 50. ADAC TotalEnergies 24h Nürburgring | Qualifying 3 | Gesamtstrecke |
| 15:40 | 16:10 | BMW M Race of Legends | Freies Training 3 | Grand-Prix-Strecke |
| 16:20 | 16:30 | BMW M Race of Legends | Qualifying | Grand-Prix-Strecke |
| 16:45 | 16:55 | Tourenwagen Legenden | Startaufstellung | Grand-Prix-Strecke |
| 17:00 | 17:30 | Tourenwagen Legenden | Rennen 1 (30 Min.) | Grand-Prix-Strecke |
| 17:50 | 20:00 | 50. ADAC TotalEnergies 24h Nürburgring | Top Qualifying | Gesamtstrecke |
| 20:00 | 21:00 | Falken Drift Show | | Müllenbachschleife |
| | | | | |
| --- | --- | --- | --- | --- |
| 08:35 | 08:45 | Tourenwagen Legenden | Startaufstellung | Grand-Prix-Strecke |
| 08:50 | 09:15 | Tourenwagen Legenden | Rennen 2 (25 Min.) | Grand-Prix-Strecke |
| 10:00 | 10:35 | FIA WTCR | Rennen 1 (3 Runden) | Gesamtstrecke |
| 11:00 | 11:45 | 50. ADAC TotalEnergies 24h Nürburgring | Warm-up | Gesamtstrecke |
| 12:35 | 13:10 | FIA WTCR | Rennen 2 (3 Runden) | Gesamtstrecke |
| 13:40 | 13:50 | BMW M Race of Legends | Startaufstellung | Grand-Prix-Strecke |
| 14:00 | 14:30 | BMW M Race of Legends | Rennen (30 Min.) | Grand-Prix-Strecke |
| 14:45 | 15:30 | 50. ADAC TotalEnergies 24h Nürburgring | Startaufstellung | Gesamtstreckee |
| 15:40 | | 50. ADAC TotalEnergies 24h Nürburgring | Einführungsrunde | Gesamtstrecke |
| 16:00 | | 50. ADAC TotalEnergies 24h Nürburgring | Start Rennen | Gesamtstrecke |